The Superstore hasn't touched down yet, but Roxbury is already divided against itself
By CHRIS FARAONE |  August 31, 2011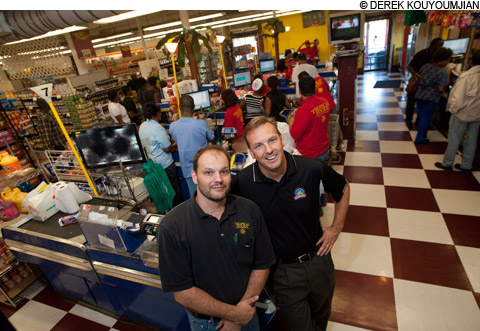 URBAN SPLENDOR While Walmart supporters point to the jobs and cheap groceries a superstore would bring to Roxbury, community advocates say that the retail giant could change the character of the neighborhood — and put local merchants such as Tropical Foods out of business.
Only one company on earth summons fevered joy and outrage by merely showing interest in a market.Walmart hasn't even said it's definitely headed for Roxbury's Dudley Square. Yet the big-box behemoth has already divided the neighborhood, created conflicts of interest, and caused meltdowns on the Boston City Council.
On one side of the battle are residents who are anxious for both work and bargains. In the opposition, there's Mayor Tom Menino, along with a number of lawmakers and a small army of activists. They claim that Dudley is already en route to recovery, and that the area's fragile economic ecosystem would crumble in the shadow of the world's biggest retailer.
And then there's the beast itself. In response to declining revenues at its suburban Supercenters, Walmart has increasingly targeted the urban poor in places like Chicago. Accustomed to getting what it wants, in this case the company hired Nicholas Mitropoulos, an old pal of the mayor, as an advisor, and donated fat sums to local nonprofits — including one headed by a politically influential member of the Roxbury Strategic Master Plan Oversight Committee.
Though there's been no official announcement, Dudley Square seems like an attractive target for Walmart's new urban strategy. More than 30,000 commuters roll through Dudley every weekday. The fast-food joints there are regularly jammed, as are old standbys like the legendary Alpha & Omega sneaker spot and Tropical Foods, the neighborhood's go-to grocery store for 35 years. Sure, it's a far aesthetic cry from Newton Center, and even from gentrified strips in the South End. Still, the Dudley triangle shows several signs of strength. After countless broken promises, the long-decrepit Ferdinand Building — once a shopping mecca and landmark keystone to the square's former prosperity — is finally slated for a $100 million overhaul. Commercially, young businesses like the 6000-square-foot Dudley Department Store are thriving on foot traffic, while as of this month the city is considering four separate multi-million-dollar proposals to develop two parcels on Melnea Cass Boulevard.
So when the rumor mill began to spin earlier this year, fanning speculation that the Arkansas-based company had its eye on Dudley, concerned parties broke out the torches and pitchforks.
"Walmart does not belong in Dudley Station, it does not belong in the Dudley triangle, and it does not belong in Roxbury," says District 7 city councilor Tito Jackson, who campaigned on job creation, but believes that a Walmart would destroy more opportunities than it would create. "I believe it would have an adverse affect on businesses in that area — businesses like A Nubian Notion, which has been there through thick and thin. Walmart would put them out of business, and I'm not for that. It's nice that they want to move in now that the city is putting hundreds of millions of dollars into new projects, but where were they 20 years ago when Dudley was a food desert? Where were they even 10 years ago?"
FULL STORY HERE: http://thephoenix.com/boston/news/126081-in-the-shadow-of-walmart/#ixzz1WjZzaKRs